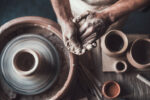 The 2nd annual Seagrove Wood Fire Tour will take place online and in person highlighting local potters and their work for sale.
The participating potteries include: From the Ground Up Pottery, Studio Touya, Ben Owen Pottery, Jugtown Pottery, Johnston and Gentithes Art Pottery, Blue Hen Pottery, Kate Johnston at Triangle Studio, David Stuempfle Pottery, Luck's Ware and Donna Craven Pottery.
This event is at a variety of individual shops on Saturday, June 6, from 10 a.m.-7 p.m., and Sunday, June 7, from noon-6 p.m. Select potteries will only be open for in-studio visits or by appointment.
More information can be found on Seagrove Wood Fire website
If your looking for lodging near the Seagrove Wood Fire Tour, consider The Duck Smith House Bed and Breakfast. We look forward to your visit!