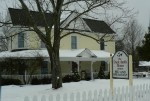 Holiday Open House with the Seagrove Potters
Join the Seagrove Potters for their holiday open houses beginning  December.7th -the 21st
Go to www.discoverseagrove.com/holiday-openhouse for more details and a list of the participating pottery shops.  Need some holiday gifts?  Seagrove is the perfect place to find that one of a kind piece of pottery.
Seagrove Pottery Shops & The NC Zoo Are Ready for Your Visit!
The Duck Smith House is open all year so don't feel like you have to wait for a special occasion.  Every time you stay it's special.   Honeymoon, anniversary, birthday or just a much needed get away. Surprise your someone with an over night stay or come for the weekend.
There's blueberry Stuffed French Toast or Sweet Potato Pancakes … yum!  In the fall or winter how about a baked pear or baked apple which are a wonderful warm fruit. Summer is time for peaches which are sometimes baked with cream.
Potters are a wonderful group of artists who love their craft and are eager to have you come through their door to see what's new.  Stay awhile and chat as talking about their history is very exciting.
The NC Zoo is open every day for your viewing except Christmas Day.   2019 saw the zoo attendance almost reach one million visitors.  The Polar Bears loves to put on a show for visitors.
Golfers can enjoy several courses in Asheboro and the surrounding areas.
–Asheboro Country Club
5105 Old Lexington Rd., Asheboro
800/227-1598 or 336/626-0175
website :  asheborocc.com    Open daily
Set in the beautiful Caraway Mountains of North Carolina's Piedmont Region.  This Asheboro Country Club is a  championship course with layout cuts through tall oaks and towering pines, a 22-acre spring-fed lake and was recently redesigned by golf course architect Jim Bivins.
–Asheboro Municipal Golf Course
421 Country Club Drive, Asheboro
336/625-4158
website:  AsheboroNC.gov    Open daily
The Asheboro Municipal Golf Course is located just minutes from downtown Asheboro, the popular public nine hole course designed by the famed Donald Ross in 1935.  Located on 56 acres of beautiful tree-lined greenways.
–Pinewood Country Club
247 Pinewood Road, Asheboro
336/629-4266
website:  www.pinewoodclub.com
The  Pinewood Country Club is currently ranked 65 in the State of NC; named #1 hidden gem among all courses in the Piedmont Triad Area.
–Tot Hill Farm Golf Club
  3185 Tot Hill Farm Road, Asheboro
800/868-4455 or 336/857-4455
website:  TotHillFarm.com    Open daily
Tot Hill Farm Golf Club is located 8 miles southwest of Asheboro.  This course has been rated 4.5 stars, Best Places to Play and ranked the 7th Hardest Course in America by Golf Digest.  Designed by Mike Strantz, experience the most breath-taking, awe-inspiring golf you've ever played!
Events
The Seagrove Pottery Shops are open for your visit.  They are busy producing new pieces all the time and love to show you their works.