At The Duck Smith House, we're always striving to help you create lasting memories during your stay with us. We're excited to share our latest addition to the B&B: two delightful gift shops that bring the Holiday Spirit to life year round, and a workshop for guests to create the perfect Christmas Village display. Our new gift shops are designed to provide you with unique decorations and modeling supplies.
Shop #1: Holiday Memories
Located in one of the 3 former tobacco barns on the property, our Holiday Memories shop is a treasure trove of holiday (primarily Christmas) decor from a variety of time periods.  Jeremy thoughtfully selects the inventory, picking up unique and different items and memorabilia from a variety of sales, auctions, and other places with you in mind.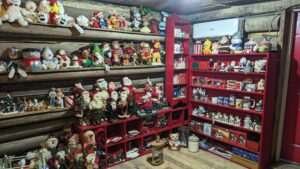 Shop #2: The Train Depot
Our second gift shop, The Train Depot, offers a range of items for anybody interested in model trains or slot cars, in yet another of the tobacco barns.  Worth a visit for the unique ceiling or to check out Jeremy's work-in-progress village with trains & a holiday wonderland, you'll also find items to take home and bring the magic of model railroads and slot cars back into your life.  From basic train sets (or slot cars) you can take home to run around the Christmas tree, to supplies for those that have an entire room of their home dedicated to their hobby, you'll find what you are looking for!
Workshop: Santa's Workshop
Jeremy has created this space to run workshops and teach people how to create the best displays for their holiday villages.  Perfect for Christmas Villages, Department 56, or Halloween Towns, the display you make is built for you and your needs.  If you are looking to create a unique space to show off your collection, he'll be happy to work with you to create the masterpiece of your dreams.
Visiting
We invite you to explore our new specialty shops during your stay with us. When you're seeking a special gift for a loved one or a keepsake to remember your time at The Duck Smith House, our specialty shops are ready to help. Your stay with us is more than a mere getaway; it's a journey into a world of cozy, intimate, and heartwarming memories.
Book your stay now, and let the enchantment of our bed and breakfast become a part of your life.
Visitors to Seagrove that aren't spending the night with us can also visit the specialty shops.  Just stop by the Bed & Breakfast and we'll be happy to take you over to check it out!